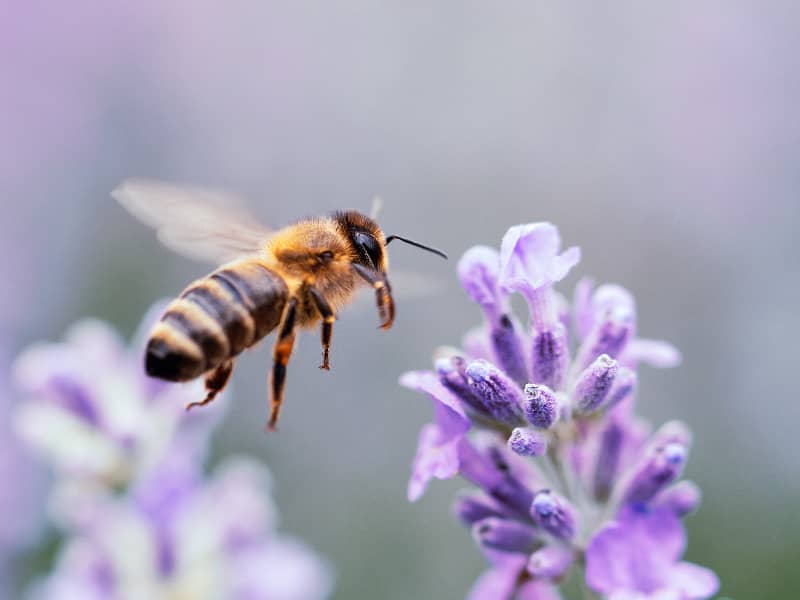 Bee friendly balcony plants
Amidst the urban landscapes of our cities, a silent promise blooms for our busy bee friends: bee-friendly balcony plants on balcony oases. You may already suspect it, but your balcony can be more than just a place for you to relax. It can become a true sanctuary for bees. In this blog post, you'll learn how to turn your balcony into a bee-friendly paradise and why it's so important.
Why promote bees on the balcony?
It's no secret that the bee population is declining worldwide. There are many reasons for this, from pesticides to disease to habitat loss. But did you know that urban areas can play a key role in supporting these important insects?
Urban balconies, despite their small size, allow to accommodate a variety of plants. This diversity can provide nutritious food for bees. A bee-friendly balcony not only supports these industrious pollinators, but also contributes to biodiversity in urban areas.
Which plants are particularly bee-friendly?
There are many plants that attract bees. However, there are some favorites that are particularly nutritious for them and can be easily cultivated on balconies.
Lavender: This aromatic shrub is not only pleasant for people, but also attracts bees. Its purple flowers are rich in nectar.
Marigolds: These bright orange flowers are not only a feast for the eyes, but also provide bees with a nutritious meal.
Sun hat: With their striking pink or purple flowers, they magically attract bees. They are easy to care for and robust.
How do I care for my bee-friendly plants?
A green thumb is helpful, but not essential. Taking care of bee-friendly plants is all about creating a healthy environment for the plants.
Watering is a key element. Too much water can cause root rot, while too little will cause the plant to dry out. It is recommended to check the soil regularly and make sure it is moist but not soggy.
Fertilizing is another important point. Organic fertilizers are preferable because they do not contain harmful chemicals that can harm bees.
Can bees and other insects coexist on my balcony?
The short answer is yes. If you turn your balcony into a bee paradise, you're likely to attract other insects as well. Butterflies, bumblebees, and even birds might pay your balcony a visit.
It is important to emphasize that these insects and animals can live together in harmony. Bees are not aggressive and will only sting if they feel threatened. With enough food sources and space, they will peacefully coexist with other animals.
A diverse balcony has many advantages. Not only bees benefit from it, but also you. A colorful, lively environment promotes well-being and lets you experience nature in the midst of the city.
Bee friendly balcony plants with a small balcony
Don't worry! You can make a difference even in the smallest space. It's not about the size, it's about the variety. Even in small pots you can grow plants that bees love.
It is advisable to consider vertical gardens. They maximize space while providing a variety of planting options. Another tip is to use hanging pots or window boxes. They save space and can accommodate many bee-friendly plants.
No matter how big or small your balcony is, it can become a haven for bees. With a little planning and care, you can make a difference in the world of these fascinating insects.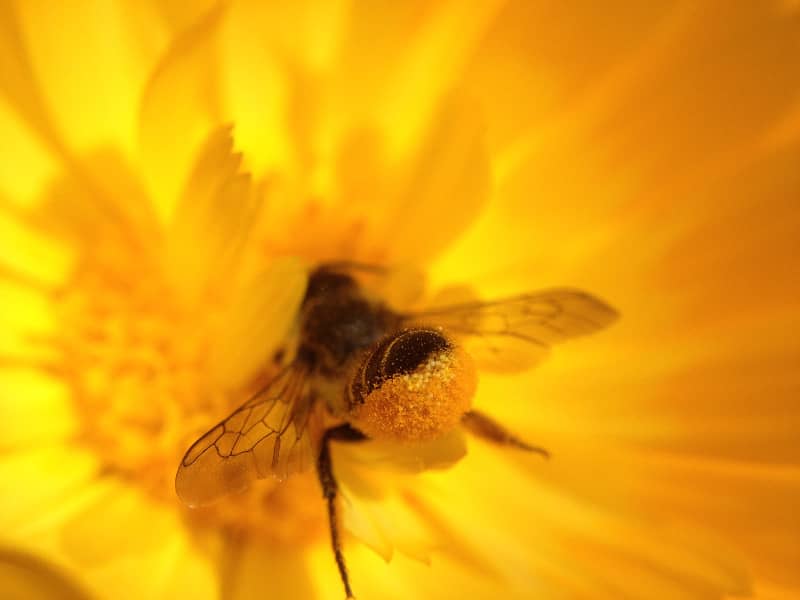 Bee friendly balcony plants
There are countless plants that are great for bees and perfect to grow on balconies. Here is an extension of the list:
Thyme (Thymus vulgaris) This culinary herb is not only pleasantly fragrant, but also a real bee magnet. Its small flowers provide a lot of nectar and pollen.
Sage (Salvia officinalis) Not only popular in the kitchen, flowering sage attracts bees with its purple flowers. There are also many ornamental sage species with a wide variety of flower colors, which are equally attractive to bees.
Daisy (Leucanthemum) With their brilliant white petals and yellow centers, daisies are not only a visual highlight. They also provide bees with a rich source of food.
Fragrant stonewort (Lobularia maritima) This low-growing little plant blooms throughout the summer and spreads a pleasant fragrance. It attracts not only bees but also butterflies.
Borage (Borago officinalis) The star-shaped, blue flowers of borage are a real eye-catcher. In addition, it is an excellent source of food for bees and can be easily cultivated on the balcony.
Nasturtium (Tropaeolum majus) This climber with its bright orange and yellow flowers magically attracts bees. It is perfect for hanging baskets or as a ground cover in larger planters.
Girl's Eye (Coreopsis) The bright yellow flowers of the girl's eye are not only decorative, but also a valuable food source for bees.
Stonecrop (Sedum) Fat hens are succulents that bloom late in the year, when many other plants have already faded. Their dense inflorescences provide bees with an important food source in late summer and early fall.
Viper's bugloss (Echium) These plants are particularly rich in nectar and therefore very attractive to bees. Some species can grow quite large, but still suitable for larger balcony boxes or pots.
Choosing the right bee-friendly balcony plants is the first step to turning your balcony into a bee-friendly paradise. By combining different plants that bloom at different times of the year, you ensure that bees have a constant food source throughout the gardening season. Each plant will help support the bee population and add life and color to your balcony.
valeaf BIO Wild Flower Seeds Set I 10 Varieties Bee Friendly Flower Seeds I Premium BIO Seeds Flowers I Wildflower Seeds I Flower Mix Seeds I Bee Willow Meadow Flower Seeds
🐝 PLANT A FLOWER SEED FOR BEES - with our carefully matched mixture of the most beautiful bee pasture seeds wildflowers - flower seeds for a sea of flowers in the flower garden!
🌼 10 FLOWER SORT - with the following flower seeds: Phacelia (bee friend), edible flower mix, corn poppy, dragon head, marigold and many more. - Flower seeds perennial and annual seeds flower meadow!
🌸 PREMIUM BIO FLOWER SEED - our seed-stable flower seeds BIO in the flower seed set have exclusively organic quality! Garden flowers without genetic engineering for a colorful flower splendor!
🌻 KINDERLEICHTE ANZUCHT DES SEEDGUT SET - Thanks to the enclosed detailed instructions in the flower seed balcony planting set with presentation of each flower seed - incl. sowing calendar of the flower mixture flower seeds!
🦋 A POLLINATOR'S PARADISE - Bee flower seeds for pollinator-friendly blooms! Balcony flower seeds as a rich food supply for wild bees, bumblebees and butterflies!
Overview of bee friendly balcony plants
Here we have once again put the information from the previous text into a tabular form.
| | | |
| --- | --- | --- |
| Plant | Special features | Flowering |
| Lavender | Aromatic shrub, purple flowers, rich in nectar | Early to late summer |
| Marigolds | Bright orange flowers | Spring to autumn |
| Sun hat | Pink or purple flowers, easy to care for and robust | Summer to autumn |
| Thyme | Kitchen herb, small flowers provide much nectar and pollen | Late summer |
| Sage | Purple flowers, popular both as a culinary herb and ornamental plant | Early to late summer |
| Daisy | Bright white petals and yellow centers | Early summer to autumn |
| Fragrant Stonewort | Low growing, blooms all summer, pleasant fragrance | Spring to autumn |
| Borage | Star shaped blue flowers | Summer |
| Nasturtium | Climbing plant, bright orange and yellow flowers | Summer to autumn |
| Girl's Eye | Bright yellow flowers | Summer |
| Stonecrop | Succulent, dense inflorescences provide food in late summer and early fall | Late summer to autumn |
| Adderhead | Rich in nectar, some species can grow large | Spring to summer |
This table gives a quick overview of bee-friendly plants for the balcony, their characteristics and their flowering times. It is always helpful to select a mix of balcony plants that bloom at different times to provide a food source for bees throughout the garden season.
Author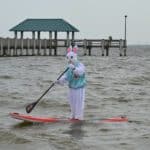 Garden animal - A life with nature

Welcome to my animal blog! My name is Dirk and I am happy to take you on my journey through the fascinating world of animals and gardening.

Born 54 years ago, I have had an insatiable curiosity for the animal world around me since childhood. Although I have moved professionally in other industries, my true passion has always been animals and nature. It is remarkable how a small garden has become such an important part of my life.

Many of my fondest memories are associated with the animals that share our home. Whether it's the curious squirrels that scurry across the trees in the morning, the colorful variety of birds that visit our feeders, or the busy bees and butterflies that pollinate our flowers, every moment with them is invaluable to me.

This blog is my contribution to share my experiences, discoveries and insights with like-minded people. Here I will share stories of unforgettable encounters with animals, give tips on gardening and creating wildlife-friendly habitats, and take you on my journeys through nature.

Thank you so much for being here!

Cordial,
Dirk aka garden animal
Letzte Aktualisierung am 2023-12-01 / Affiliate Links / Bilder von der Amazon Product Advertising API