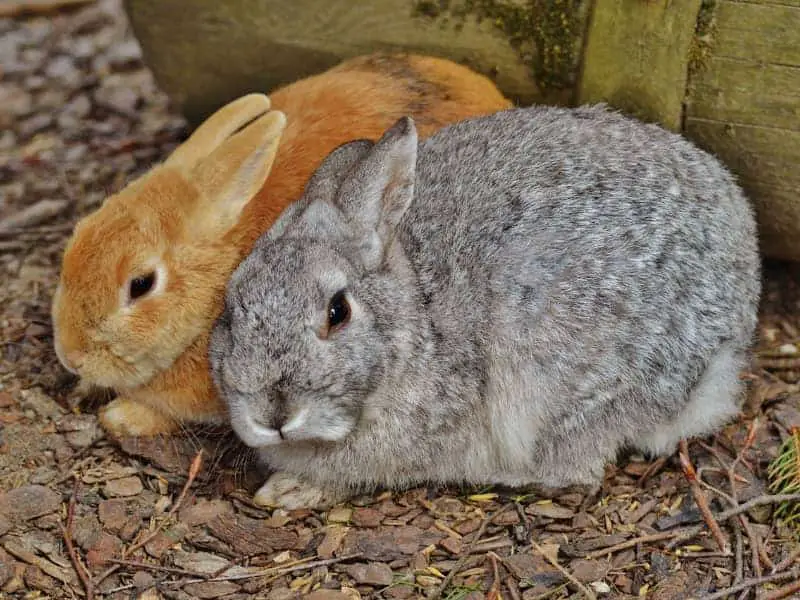 Socialize rabbits
Socializing rabbits can be a lengthy and complex task. We will show you what you need to consider and help your rabbits get used to each other without undue stress. Because they love to be surrounded by other rabbits, they often have to get used to each other in a long process.
As a caring rabbit owner, I'm sure you realize that a rabbit should never be kept alone. Ideally, at the beginning of your rabbit-keeping career, you should choose a sibling of the same age to live with you. Here there is no settling-in period and the two usually get along well with each other.
Merge/Society
These are the two terms used for your socialization of rabbits. Bringing together two rabbits that are strangers to each other is sometimes a difficult undertaking. This is because rabbits have a strict hierarchy within their pack and so newcomers are first eyed critically. Especially adult rabbits can be very bitchy.
Here, disputes are almost always pre-programmed and so it is not possible to simply put one rabbit with another. Because so the newcomer comes into a well-marked territory, which of course must be defended by the owner. For this reason, a rabbit socialization must happen in a way that causes rabbits as little stress as possible.
Preparation and procedure of socialization
First of all you have to make sure that both animals are healthy. Ideally, you should take them both to the vet and give them a fecal sample. This way you can be sure that neither animal is weakened and therefore has a disadvantage compared to the other. At the same time you will find out the current state of health of your animals.
If possible, you should build a neutral enclosure so that no territorial claim can be made by either of them. Make sure that the enclosure is large enough. At least two, better 3 m² per rabbit and some retreat possibilities are ideal.
Put the two rabbits in this newly set up enclosure at the same time.
Depending on the temperament of the rabbits, it will take more or less time until the first approaches.
Now comes the unpleasant part, because the rabbits chase each other through the enclosure, bite each other, and not infrequently there is also a rummaging by the higher-ranking on the lower-ranking.
In between, the rabbits will always take a break and watch the other. In the enclosure you should have provided food and water.
The distance between the rabbits decreases. This can happen within a few hours or sometimes days.
They eat and sleep together.
When point 8 is reached, you should prepare the final enclosure, should it be a different one than the current one.
After 3-5 days, where the animals have eaten and slept together, you can relocate them to their final home.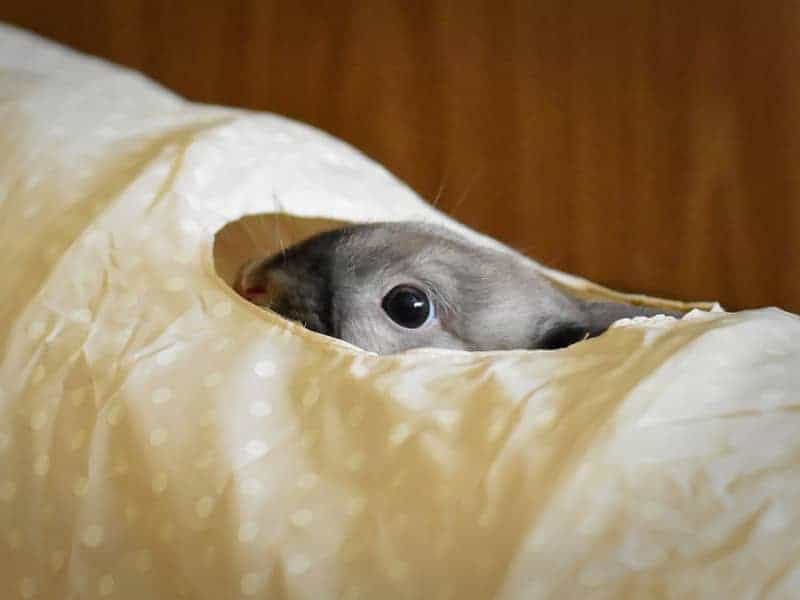 Before socializing rabbits
If you get a new rabbit, then this rabbit should be kept alone for 14 days before being brought together. In this time you can see if your rabbit has behavioral abnormalities that are caused by diseases. This can be hair loss, frequent sneezing or frequent scratching of certain parts of the body.
During this time you can also have all the necessary treatments, such as a vaccination by your vet. If this has already been done by the previous owner, all the better. We also recommend a fecal examination, as a possible parasite infestation can be detected early.
If you want to socialize a freshly neutered male to a not neutered female, then a waiting period of at least six weeks is to be kept after the neutering. Because several weeks after neutering the males are still capable of procreation.
A neutral room for the rabbits socialization
The rabbit socialization should take place as already mentioned several times on neutral ground. This means for you to find a space that is not considered by either rabbit as its own territory. This means for a rabbit that already lives with you, that there must be an area where it was not true before.
This is sometimes difficult, especially with apartment rabbits, which some rabbit owners like to let explore the whole apartment. However, you can neutralize areas in your home. This works by cleaning furnishings and floor space with vinegar water. This will remove the scent markings from your rabbit.
As good neutral rooms, have proven especially rooms with a closed floor, which can be cleaned damp. Here, the neutralization is particularly easy and a socialization does not fail because of traces left behind. It is also important that this neutral room is available for at least two weeks.
To prevent your rabbits from slipping on the slippery surface and injuring themselves while chasing, you should line the surface. Carpet remnants or carpets that are used by moving companies have proven to be useful. These are cheap, because after settling in, they may have to be disposed of.
The place of socialization
The enclosure where the two rabbits will be socialized must be large enough. It should have at least 4-6 m², if you have more space available, then use it and enlarge the enclosure. Because the larger the space is during the reunion, the less stressful this time will pass. In addition, a large enclosure has the advantage that you can reduce it gradually.
Because if the two heroes do not like each other, then you can step by step reduce the size of the enclosure and so they inevitably have to get closer. It is also important that you remove any source of danger from the enclosure, where the rabbits could hurt themselves. Because when they are hunting, the rabbits no longer pay attention to where they are running.
Socialize rabbits, the establishment
The enclosure in which the rabbits are to be socialized must have several retreats. You must make sure that all retreats have two exits. Because when hunting, these are also used as a place of refuge and your rabbits must have the opportunity to escape from there.
As mentioned above, there should be a non-slip surface so that nothing happens when chasing. It is also important that the underground can be cleaned well, because especially in this side your rabbits will mark everything to delimit their personal territory. Several toilet places are also important so that the rabbits can go about their business undisturbed.
You should also place at least two drinking places and two feeding places at the greatest possible distance from each other. This ensures that both animals can eat undisturbed and that the food supply is guaranteed. A single feeding place can lead to the dominant animal not letting the other eat and drink.
HYLYUN Very Large Grass House for Rabbits - Natural Dried Grass Hay House, Foldable Bed Hut with Openings Play House for Dwarf Rabbits Guinea Pigs Chinchilla Ferrets
Larger Grass Playhouse for your furry friend: Measuring 38 x 29 x 25 cm, this is the grass hutch large enough for your full size adult rabbit or multiple bunnies, hamsters, chinchillas and ferrets! We also include an extra nylon cable tie so the walls can be easily tied down and not collapse.
Hand Woven Grass: 100 % handmade and the scent of natural grass blades entice animals to nibble, gnaw and forage. Encourage them to chew this mega chew toy instead of your furniture and clothes!
Multipurpose use: Apart from using it as a house and a mat, you can use it for a treasure hunt game for your pet. Just hide small treats in between for your pet to spend time exploring and finding food.
Protect rabbit paws: The foldable woven straw house is completely pet safe and durable. The hutch protects your cat's sensitive claws from the bottom of the wire cage when they crawl inside. The rabbit hiding toy can provide more interest for your pet and you can use it as a pet activity center.
Perfect gift: It has good air permeability and is warm in winter and cool in summer. The grass house naturally enriches your playtime with your pet while satisfying your pet's natural instinct to dig, explore and nest.
The rabbits get to know each other
Socializing rabbits begins with placing both rabbits in the enclosure prepared for them at the same time. This is done as far away from each other as possible, ideally in the two opposite corners of the enclosure. The rabbits now begin to explore their surroundings and accordingly meet the new roommate.
The first approaches can turn out from friendly to rabid. So it can happen that immediately a hunt takes place and the rabbits bite each other. Do not worry, small bite injuries, a little fur that flies through the area and mutual rammeln are completely normal. This is also how the hierarchy between the rabbits is established in the wild.
Even if things get wild, never separate the rabbits at this stage. This is only necessary if one rabbit causes severe injuries to the other. You should only intervene if there are attacks against the face and if they are so intertwined that they will not let go. You should also intervene if the wounds are bleeding heavily.
Generally, the peak of the rabbits socialization reaches in the period of 12 to 24 hours after getting acquainted. Then you have learned the environment and want to mark their territory and establish the hierarchy.
The hierarchy is established
After the 12-24 hours described above, most scuffles are started. Now the rabbits regularly chase each other through the enclosure to show the other who is in charge. If you have built in enough retreats, then you don't have to worry about the rabbits seriously injuring themselves.
Because both will need the breaks in between to rest and eat. Then they will each retreat to their own corner to use their own retreat area. Therefore, at least two feeding areas and two resting areas should be provided. These phases of hunting and resting alternate again and again and the breaks in between become longer.
After 3-6 days, the hunting phases should have become clearly less and you will be able to observe the first peaceful approaches. Possibly you can already observe how the animals sit peacefully next to each other and possibly even eat together from one bowl.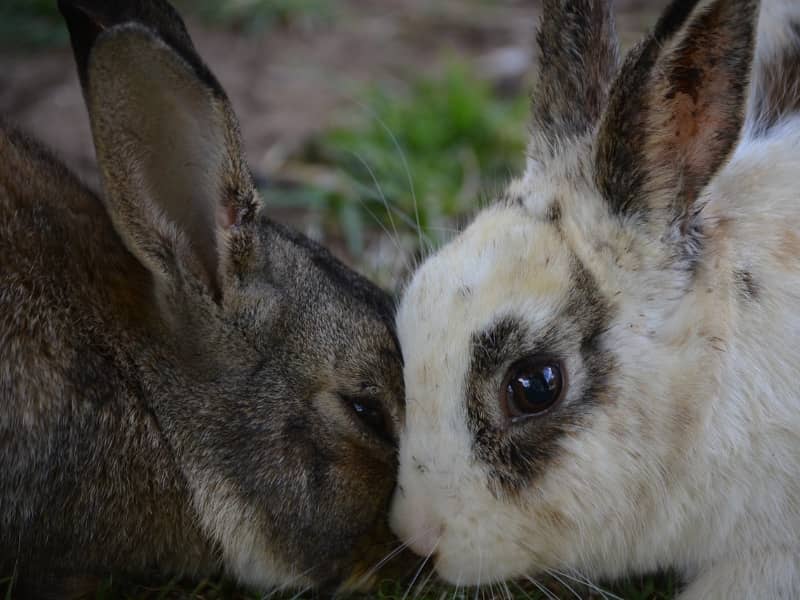 Successfully finish socializing rabbits
If your rabbits are grooming each other for the first time, you can be sure that you are close to the finish line. Even if this already happens after five or six days, you should leave the two rabbits in the enclosure until the 14th day and observe them intensively. This will help them get to know each other better and understand each other's idiosyncrasies.
If the rabbits have been friendly with each other for the last few days, then you can start the move to the final enclosure. If rabbits have already lived there, you should neutralize everything that has been in contact with other rabbits with vinegar water. This is the only way to be sure that no foreign smells will disturb your rabbits.
The conclusion of the rabbit socialize in the new enclosure is to observe the two animals again for a few hours closely. Because sometimes it comes to renewed scuffles, but only almost never again accompanied by injuries.
Author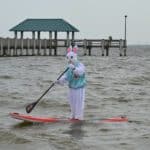 Garden animal - A life with nature

Welcome to my animal blog! My name is Dirk and I am happy to take you on my journey through the fascinating world of animals and gardening.

Born 54 years ago, I have had an insatiable curiosity for the animal world around me since childhood. Although I have moved professionally in other industries, my true passion has always been animals and nature. It is remarkable how a small garden has become such an important part of my life.

Many of my fondest memories are associated with the animals that share our home. Whether it's the curious squirrels that scurry across the trees in the morning, the colorful variety of birds that visit our feeders, or the busy bees and butterflies that pollinate our flowers, every moment with them is invaluable to me.

This blog is my contribution to share my experiences, discoveries and insights with like-minded people. Here I will share stories of unforgettable encounters with animals, give tips on gardening and creating wildlife-friendly habitats, and take you on my journeys through nature.

Thank you so much for being here!

Cordial,
Dirk aka garden animal
Letzte Aktualisierung am 2023-09-25 / Affiliate Links / Bilder von der Amazon Product Advertising API